This article was originally published by the Catholic Voice.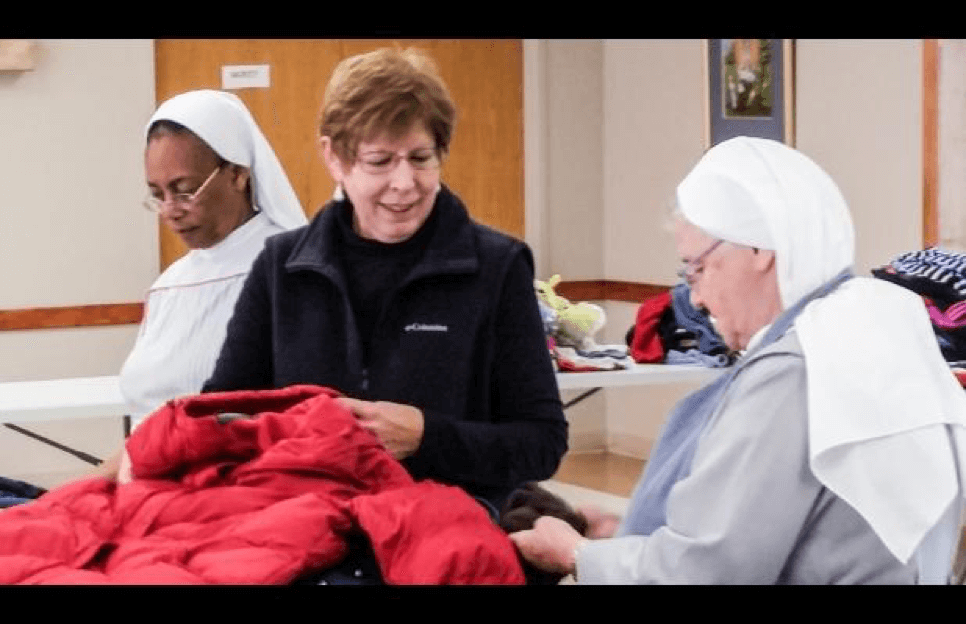 Kathy Gaines, center, works Oct. 23 with Missionary Benedictine Sisters Jane Nyaki, left, and Deana Case at Our Lady of Fatima Thrift Store in Macy.
About six times a month Kathy Gaines travels from her home in northwest Omaha to Our Lady of Fatima Church in Macy – a 138-mile round trip – in a Honda CRV loaded with donations she's gathered.
Once in Macy, she and her helpers unload the clothes, toiletries, blankets and other essentials. And twice a month, they set up a temporary thrift store at the church, with tables filled with items.
"It's a very gypsy operation," Gaines says with a laugh. But the thrift store is a godsend for many people in the area of Macy, which has a high poverty rate and no other places to shop except a convenience store.
Gathering the donations, shopping at stores for discount items and organizing the thrift shop has been a labor of love for the volunteer and longtime member of St. Cecilia Parish in Omaha, who often uses her own money to help.
That dedication recently earned her the title of AARP Nebraska Volunteer of the Year.
The person who nominated her for the honor, Missionary Benedictine Sister Deana Case, said Gaines is "a true disciple of Christ," who "gives her time and energy very selflessly."
Gaines said she had no idea she had been nominated for the award and was surprised last summer when AARP officials notified her that she'd won. An Oct. 6 ceremony was held at the church thrift store, amid the tables, clothes and other merchandise.
She began her volunteer work in late 2015, shortly after retiring from the Siena/Francis House Homeless Shelter in Omaha, where she worked for 19 years and helped organize donations.
Gaines had driven some leftover donations from the homeless shelter to the St. Augustine Indian Mission in Winnebago and saw dire poverty along the way.
"I saw the conditions in Macy and Winnebago," she said, and she knew she wanted to help.
Her timing was perfect. In early 2016, the Winnebago Indian Mission established the thrift store as an outreach program to the neighboring Omaha Nation. And in March, Gaines began volunteering at the shop, bringing her experience from the homeless shelter and a talent for organizing, Sister Deana said.
Another volunteer, Pat Bovee of Omaha, who volunteered at Siena/Francis for many years, soon joined her. "They're a good team," Sister Deana said.
Gaines said that for many years at the homeless shelter she relied on Bovee and other volunteers – and she learned from them. "I wanted to give someone else what my volunteers gave to me," she said.
She said health problems have slowed her down at times, but she continues to volunteer. Gaines also organizes candy giveaways twice a year at Siena/Francis and volunteers every Thursday at the butterfly and bug exhibit at Henry Doorly Zoo & Aquarium in Omaha.
But with the thrift shop, she said, she believes God directed her to a volunteer job where her skills might best be put to use.
"We're all directed where we're needed most," Gaines said. "It's up to you whether you hear the call."
God also has a hand in the thrift store donations, she said, because items always arrive when needed.
"It's a God thing," she says. It's her favorite phrase.
The store sells new and used items at low prices. Most clothes, including coats, are $2 or less. A parent, grandparent or great-grandparent can buy a child a toy for just a quarter.
The store has had about 2,000 customers visit since it opened and continues to attract new shoppers. The purpose of the thrift store, Gaines said, "is to put things into their hands in good condition, things they can't afford, and make them affordable."
Right now, the store needs winter items: blankets, hats, gloves, coats, socks and boots for all ages. And Gaines said she would be willing to pick up donations. Gift cards also come in handy, she said.
Anyone interested in donating or volunteering can call Gaines at 402-979-0584.