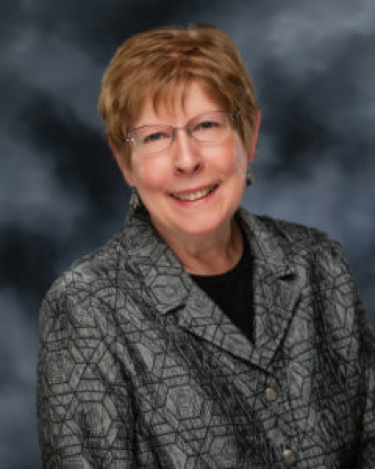 This was originally published on the AARP website.
Kathy Gaines of Omaha has been selected to receive AARP Nebraska's highest volunteer award. She is the 16th volunteer to be honored with the annual AARP Nebraska Andrus Award for Community Service since 2002.
AARP Nebraska selected Gaines for her exceptional record of service, and for the impact she has had on the lives of others and the community she serves.
Since 2016, Gaines has volunteered with St. Augustine Indian Mission's Omaha Nation Outreach Thrift Store at our Lady of Fatima Catholic Worship Center in Macy, Neb. The non-profit store provides quality clothing, household items and toys at very low prices to members of the community.
As Sister Deana Case noted in her award nomination, Gaines' volunteer work with Omaha Nation Outreach has been pivotal in creating a place for people to find basic necessities at affordable prices and also gather and socialize. Most of the shoppers are elders of the tribe, many raising grandchildren and great grandchildren.
Several times a month, Gaines travels 80 miles from Omaha with donations she has secured of new and gently used items to stock the thrift store. She helps set up, staff and take down the store, and makes the layout attractive and welcoming to customers. More than 2,000 customers have visited the store since its opening.
In addition, Gaines obtains toys and educational materials for the St. Augustine Indian Mission School, and periodically finds sources of food, mostly meat, to bring to the food pantry in Walthill, which serves the Omaha nation.
Prior to her volunteer service with Omaha Nation Outreach, Gaines worked for the Siena/Francis House Homeless Shelter in Omaha for 19 years as director of donations and volunteers until her retirement in 2015.
Nominator Sister Deana Case summed up Gaines' powerful impact as a volunteer in Macy and beyond.
"Kathy's volunteer work is to tirelessly and enthusiastically search for, obtain and deliver some of the basic needs of food and clothing to the poor and often elderly residents. In a very real sense, Kathy's volunteer work has provided hope to a struggling community and those who strive to serve it."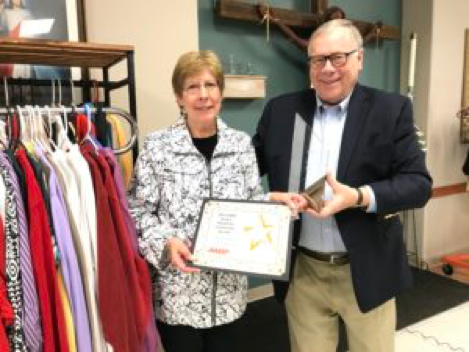 Dave Holmquist, state president of AARP Nebraska, praised Gaines for her commitment to volunteering and her efforts to improve the lives of age 50-plus residents on the Omaha nation.
"Through her exemplary record of service, Gaines demonstrates what it means to make a difference in the lives of others. The Andrus Award acts as a symbol to the public that we can all work together for positive social change," Holmquist said. "AARP has long valued the spirit of volunteerism and the important contributions volunteers make to their communities, neighbors and the programs they serve."
The award was formally presented to Gaines at a ceremony on Oct. 6 at Our Lady of Fatima Catholic Worship Center. During the program, AARP Nebraska also presented the worship center with a check for $2,500 on behalf of Gaines, who designated it as her charity of choice.
Andrus Award recipients across the nation were chosen for their ability to enhance the lives of AARP members and prospective members, improve the community in or for which the work was performed, and inspire others to volunteer.